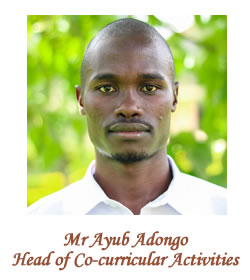 The department of Co-curricular Activities runs over all other educational departments. The core business of this department is to develop a person in all the three domains of learning; that is cognitive, affective, and psychomotor domains.
Sports.
"The favorite part of the game is the opportunity to play"- (Mike Singletary). Vanessa Grant Girls' School offers its students opportunities to play variety of sports and join teams that participate in various tournaments. The teams include: Soccer, Volleyball, Netball, Basketball, Handball, Hockey, Lawn tennis, Table tennis, Badminton, Swimming, and Athletics.
The school has standard sports facilities which promote maximum development of students' talents. These facilities include: Basketball court, Football field, Handball court, Hockey field, Volleyball courts, Netball court, Lawn tennis court, Athletics track, and gymnasium with table tennis tables, among others.
The routine of the school includes a games period every weekday from 1600h to 1745h. However, on Tuesdays and Thursdays the program is suspended for clubs' and societies' meetings respectively. There is also inter-homes sports competition for third term. During this event the four homes compete against each other in disciplines like Soccer, Volleyball, Netball, Tug-of-war, and Athletics. The winning home is rewarded with a standard trophy and other incentives.
Clubs.  
There are over ten vibrant clubs in our school including the Drama club, Music club, Debate club, Journalism club, Japanese club, French club, Red Cross club, St. Johns Ambulance club, Taekwondo club, Environmental club, and Kiswahili club, among many others. Each club is headed by a competent patron who ensures smooth running of club's activities.
The great feat is attributed to our coaches, patrons and administrators. They have steered this department to greater heights by mentoring students in various disciplines, securing connections with other schools for joint practice, and hiring of professional trainers. This has enabled our representation to national levels.

Finally, special thanks goes to the Board of Management and Trustees for the continued support and good plans they have for our department and the whole school.